tucsonhomebrewclub.com
Written by Michael Fry
Wednesday, 16 April 2014 09:10
Welcome to the official website of the Tucson Homebrew Club. Guests of the site will find plenty of information here about the art and craft of homebrewing and also local and regional beer-oriented events. If you're interested in brewing your own beer and live in the Tucson area, we'd like to extend an invitation to join us for a monthly club meeting and see what we're all about. Our club is open to novices, experts, and anyone in between. Our primary goal is to promote the time-honored tradition of brewing beer and share and improve upon our member's knowledge and appreciation of the brewer's craft.
We meet the first Tuesday of every month at Dragoon Brewery 7PM - 9PM. We'd love to have you join us.

Club members who are registered and logged in with the website will have access to additional information, functionality, and resources. Be on the lookout for new menus and new lots of new content. Anyone with questions can contact a webmaster or a club administrator by clicking here.

"They who drink beer will think beer."    ~Washington Irving
Written by Michael Fry
Wednesday, 16 April 2014 08:16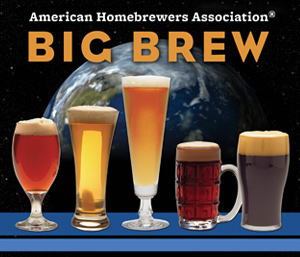 Well it's on like Donkey Kong!! Big Brew will happen in conjunction with Ten Fifty-Five Brewery.

Date: Saturday 3 May, 2014
Time: 0900 (Set-up)
Location: 3810 E 44th St. Ste 315 Tucson, AZ 85713 (I'm sure you'll see us in the parking lot)
Ten Fifty-Five will be mashing in the Regal Pale Ale Recipe and we'll boil it up. You'll need to bring your own hops and yeast. Electricity as well as an ability to cool your wort will be available. The price of the wort per gallon as well as a site to reserve your wort will be made available this week.
We're also going to have a friendly club-only competition with this Big Brew Wort in July. Basically, you can take the base wort and do whatever it is you want to do with it. Be creative….We'll then bring in what you've created and we'll have a panel of judges pick a winner.
For more information check out the Facebook Page:
Sign up HERE!
Last Updated on Wednesday, 16 April 2014 20:17